Branded Corporate

& Customised Work Uniforms

BRANDED UNIFORMS & CUSTOM MADE CLOTHING – NZ wide deliveries with offices in Auckland, Christchurch & Dunedin
We have an extensive range of customised work uniforms, workwear & custom made branded clothing. Our experts are the best choice for uniform ideas when it comes to suitability, quality, price and sustainability.
CUSTOM CORPORATE UNIFORMS & WORKWEAR
AMS can offer full customisation to your company clothing, workwear and uniforms. You can choose your own patterns, fabric and full branding with your company brand. Even the pocket of the jacket can be embroidered before the jacket is assembled, supplying flawless branding and construction.
AMS has the advantage of being a cut above the rest with our amazing in-house creative and design team. They will research your brand to understand how best to represent your company's image, keeping ahead of the game with their cutting edge and modern styles, we are always on the lookout for fantastic ideas and new products to bring to our clients while creating something truly unique to make you stand out from the crowd.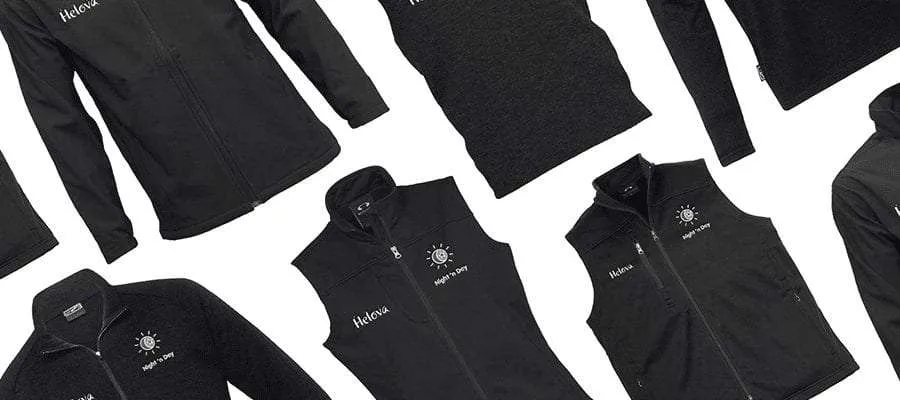 CORPORATE UNIFORMS
The latest corporate uniforms with a huge range, great style and easy wear fabric options. We can custom make and embroidered jackets, shirts, tops, caps and much more.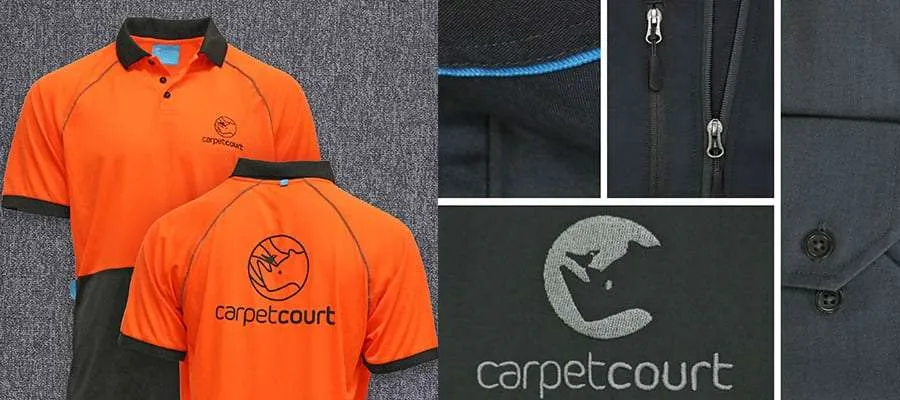 HI-VIS WORKWEAR
Leading the way in using recycled plastic (RPET) instead of polyester. We now offer a full range of RPET apparel, including, company-branded jackets, caps, shirts and tops
What is RPET?
 – Recycled Polyethylene Terephthalate –

It is a 4 stage process:
Plastic bottles are cleaned extensively.

Then shredded into plastic pellets.

Which is then melted down.

And finally is then spun to make new threads.
ECO APPAREL
Leading the way in using recycled plastic (RPET) instead of polyester. We now offer a full range of RPET apparel.
Natural fibre textile options are also available including:
Cotton, Silk, Leather, Piñatex, Merino, Wool, Linen, Hemp, and Bamboo. 
FUTURE FABRIC TECHNOLOGY
New technology is paving the way to convert organic waste
into new textiles, which we are very excited to watch them
grow from experimental to commercial applications.

Some of these include:

Coffee Leather (From Used Coffee Grounds)

Coconut Leather (From Coconut shells)

Apple Leather (From Apple Scraps)

Mushroom Leather

Banana Silk (From Banana Stem)

Orange Fiber (From Orange Skins)

Vegea (Waste discarded from winemaking)


& much more!
AMS Personalised Work Uniforms
Whether you need casual style clothing, business workwear or even footwear, we'll work with you to create a customised range of company uniforms!
What Makes Us Special!
Why Choose AMS for your apparel?
1. Our 1 on 1 relationship
With offices NZ wide, we have experts close by you.
They work directly with you, helping you to choose the right apparel for your needs.
3. We Deliver
We use specialised cloud-based systems and our own warehousing and national distribution network to ensure we get the right apparel to you on time, no matter your location.
5. Making Special – Uniform

Our national coverage and experience allow AMS to personally partner our clients in developing a uniform range that truly represents their brand, whilst ensuring functionality and style which will enthuse and motivate staff, be it in Hi-Vis workwear or corporate uniform.
2. Our Direct Sourcing
Our Shanghai sourcing and production office allows us to customise apparel for you at a lower cost per unit, higher quality, and more ethically & sustainably.
4. Outstanding Team

Our outstanding design team customises as a service, be it designing company branding on off the shelf apparel, to developing fully customised garment's, that our offshore team oversee the manufacture of.
6. Interactive Customer Services

We support our uniform partnerships with an interactive customer portal.  Making the management of uniform easy, allowing our clients to focus on their core business.
Click here for all the great features of our U-ME
( Uniforms -Made Easy) portal
7. Fully Integrated Services

Finally, AMS offers free warehousing and a fully integrated national logistics solution to ensure the right Uniform is in the right place at the right time. Click here for all the features of our National logistics Solution >

By bringing together one on one consultancy, custom design, automated order management and seamless logistics we offer a truly special uniform experience.
Our Recent Branded Uniform Projects